Unveil the Most Romantic, Unique & Simple Anniversary Cake Designs for the couples!

Chennai Super Kings - official
20. August, 2023.
Best chai
Architta Kataria
3. August, 2023.
Yesterday I bought a chocolate cake for my parents anniversary the cake was too delicious & so attractive .
Suvidha Engineers
29. July, 2023.
Best catering service in south delhi from Chaykala.. The first experience was really appreciated..
Vandana Vohra
24. July, 2023.
The cake tasted amazing and looked nice too. Thank you for customising the cake accordingly.
When you're celebrating a significant moment in your marriage, a beautifully crafted anniversary cake adds that special touch. Whether it's your first year together or your 50th, we've got a delightful array of anniversary and wedding cake design ideas for you. These thoughtful ideas will make your anniversary celebration very special. Let's explore them together and make your day even more magical.
Celebrate Your Anniversary with a Happy Wedding Anniversary Cake Design
First Anniversary Cake Design Ideas:
As you celebrate your first year of marital bliss, your cake should reflect the freshness and romance of your journey together. Consider these cake designs to sweeten the occasion:
Classic Elegance: Opt for a simple, two-tiered white cake adorned with delicate sugar roses.
Love Knot: Tie the knot—literally—with a cake featuring an edible fondant knot as its centrepiece.
Photo Cake: Personalize your cake with a cherished photo from your wedding day, encapsulating the memories of your beautiful beginning.
Watercooler Whimsy: Delight in a cake adorned with soft, dreamy watercooler patterns. It adds a touch of artistic romanticism to your celebration. It acts as a love-filled painting that you can eat.
Candlelit Glow: Illuminate your first-year celebration with a cake featuring edible, flickering candles. It is a sweet way to express how warm you feel about someone.
5th Simple Anniversary Cake Design Ideas:
By your 5th anniversary, your love has deepened, and your cake should reflect the richness of your bond:
Wood-Inspired Cake: Embrace the traditional theme of wood with a cake that incorporates rustic woodgrain textures.
Cinco de Delicioso: Add a dash of fun and uniqueness to your celebration with a Mexican-inspired cake. Think vibrant colours, like the festive Cinco de Mayo, and decorate it with adorable sugar cacti for a playful twist that reflects your shared adventures.
Golden Touch: Celebrate half a decade with a cake adorned in edible gold leaf for a touch of opulence.
Tropical Oasis: Transport your taste buds to a tropical paradise with a cake featuring edible hibiscus flowers and a coconut-infused flavour
Sweet Harmony: Opt for a cake design that incorporates musical notes and symbols, showcasing the beautiful rhythm of your relationship over the past five years.
Adventure Awaits: If you and your spouse are adventure enthusiasts, consider a cake that reflects your shared passion. Decorate it with edible hiking boots, compasses and miniature mountain peaks.
10th Romantic Anniversary Cake Design Ideas:
A decade of love deserves a cake that truly stands out. Here are some ideas for your 10th-anniversary cake:
Timeless Tiers: Choose a multi-tiered cake with elegant pearl accents, symbolizing the precious moments shared over the years.
Diamonds and Decadence: Incorporate edible diamonds or crystals into your cake's design for a touch of glamour.
Tin Man Tribute: Embrace the traditional 10th-anniversary theme of tin by adorning your cake with metallic silver accents.
Crystal Clear Love: Add edible crystal shards to your cake for a stunning, jewel-like effect that reflects the brilliance of your love.
A Decade in Bloom: Celebrate ten years with a floral-inspired cake, adorned with delicate edible flowers symbolizing the growth and beauty of your relationship.
Unique 25th Anniversary Cake Design Ideas:
A quarter of a century together calls for a cake that shines as brightly as your enduring love:
Silver Elegance: A silver-themed cake featuring intricate lacework and edible silver beads is a perfect choice.
Starry Night:Opt for a cake adorned with edible stars and a deep blue fondant sky to symbolize the endless love between you.
Silver Screen Magic: Celebrate your journey together with a Hollywood-inspired cake featuring edible film reels and a marquee.
Garden of Roses: Embrace the beauty of 25 years with a cake covered in edible golden roses, signifying love in full bloom.
Time Capsule Cake: Create a cake that resembles a time capsule, filled with edible mementos and memories from your journey.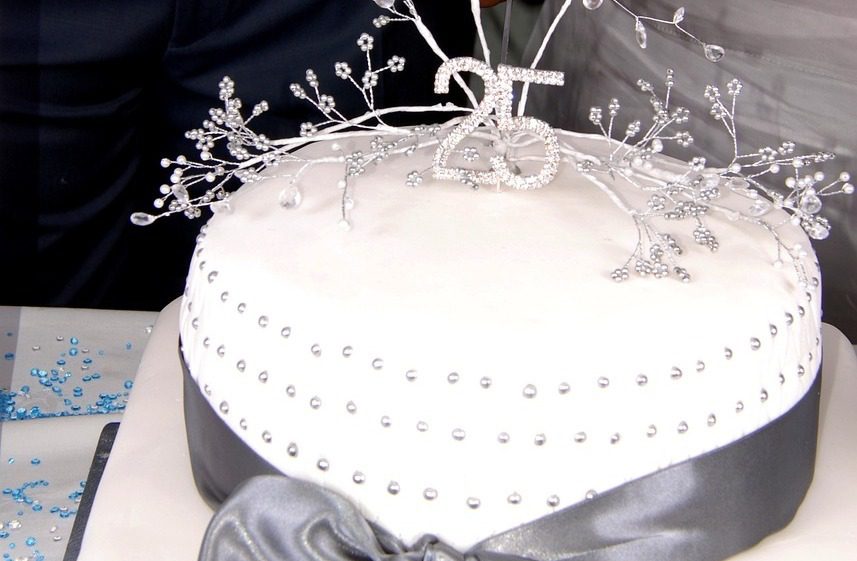 50th Marriage Anniversary Cake Design Ideas:
Reaching your golden 50th anniversary is a monumental achievement that deserves a cake fit for royalty:
Golden Splendor: Go all out with a gold-themed cake covered in edible gold leaf and intricate gold lacework.
Timeless Lovebirds: Incorporate a pair of edible lovebirds as cake toppers to symbolize your enduring partnership.
Golden Roses: Opt for a cake adorned with lifelike edible golden roses that represent the beauty of your love in full bloom.
Golden Elegance: Choose a multi-tiered cake with golden fondant ruffles that cascade down the sides, exuding an aura of opulence and luxury.
Golden Monogram: Personalize your cake with an edible monogram of your initials in elegant gold script, celebrating the unique bond you've shared for five decades.
Romantic Anniversary Cake Design Ideas for Couples
Celebrating your love? A beautifully crafted anniversary cake can sweeten the occasion even more. Whether it's for your husband or wife, customizing the cake to their taste shows your love in a thoughtful way.Let us explore the latest romantic anniversary cake design ideas for both him and her.
Latest Romantic Anniversary Cake Design Ideas for Him: Tailoring Celebrations to His Taste
For your beloved husband, a romantic anniversary cake can speak volumes about your love &appreciation. Consider these cake designs that cater to his unique preferences:
Whiskey-Infused Elegance: If your man enjoys a fine glass of whiskey, surprise him with a cake infused with his favourite spirit. A beautifully decorated cake with whiskey-flavoured frosting and chocolate accents can be a delightful treat.
Sports Enthusiast's Delight: Is your husband a sports fanatic? Personalize his cake with his favourite team's logo or a design that mirrors his preferred sport. On your special day, you may be sure to do this to get bonus points.
Gourmet Chocolate Heaven: Sometimes, simplicity can be the key to a man's heart. Opt for a classic chocolate cake with rich ganache and fresh berries for an indulgent and romantic dessert.
Tech-Inspired Creativity: If your husband is a tech aficionado, surprise him with a cake that mimics his favourite gadget or features edible printed circuit boards. It's a playful yet romantic gesture.
Romantic Anniversary Cake Design Ideas for Her: Always Keep in Mind Her Likings
Keep your wife's likes and preferences in mind while planning how to celebrate her special day. Here are some romantic anniversary cake design ideas that are sure to make her heart flutter:
Floral Elegance: Most women appreciate the beauty of flowers. A cake adorned with intricate edible flowers in her favouritecolours can be a visually stunning and romantic choice.
Vintage Charm: If your wife has a penchant for all things vintage, surprise her with a cake that features a vintage design, perhaps inspired by a bygone era or her favourite classic movie.
Romantic Quote or Message: Consider incorporating a meaningful quote or a personal message onto the cake. It could be the lyrics of your song or a message that holds sentimental value. This can make the cake even more special.
Bookworm's Dream: Is your wife an avid reader? Craft a cake that looks like a stack of her favourite books or features edible book covers of the novels she loves. It's a sweet nod to her passion.
Crafting a Memorable Beautiful & Simple Anniversary Cake Design
Celebrating your special day with a simple, unique, and beautiful anniversary cake is truly delightful. You can bake one at home or order from a bakery. We will assist you in finding creative ideas for anniversary cake designs. These ideas will surely leave your loved one in awe.
Unique Anniversary Cake Toppers: Elevate your anniversary cake with creative topper ideas
When you want your anniversary cake to truly shine, unique cake toppers make all the difference. These small decorations add a special touch to your dessert. They bring a distinct charm, making your cake stand out. Here is how:
Custom Figurines: Make figurines of you and your lover wearing your wedding gown.
Initials or Monograms: Place your initials or monogram on top of the cake for a personalized touch.
Themed Toppers: Choose toppers that represent your shared interests or hobbies, like miniature bicycles for cycling enthusiasts or tiny books for bookworms.
Anniversary Cake Flavours & Fillings: Discover mouth-watering flavour options for your marriage anniversary cake design
The heart of any cake is its flavour, and selecting the right one can elevate your celebration. Here are some delectable flavour and filling options:
Red Velvet: Known for its rich, vibrant colour and subtle cocoa flavour, this cake is perfect for a romantic occasion.
Lemon Raspberry: A refreshing combination of tartness and sweetness that tantalizes the taste buds.
Chocolate Ganache: Dive into indulgence with a decadent chocolate ganache filling.
Anniversary Cake Decorations: Add charm and elegance to your cake with exquisite decorations
Enhance the visual appeal of your cake with stunning decorations. Here are some creative ways to decorate your anniversary cake:
Edible Flowers: Adorn your cake with edible flowers like violets or pansies for a touch of natural beauty.
Pearl Sprinkles: Elegant pearl sprinkles add a touch of sophistication and glamour.
Gold or Silver Leaf: For a luxurious touch, consider applying edible gold or silver leaf to your cake.
Homemade Anniversary Cake Recipes: Bake a special anniversary cake from scratch with these recipes
If you're feeling adventurous and want to bake your own anniversary cake, try these recipes:
Classic Vanilla Cake: A simple yet timeless choice that can be customized with various fillings and frostings.
Strawberry Shortcake: Celebrate with the sweetness of strawberries and cream.
Coconut Lime Cake: Transport yourselves to a tropical paradise with this exotic flavour combination.
Anniversary Cake with Name: Personalize your anniversary cake by adding your partner's name
Adding your partner's name to the cake is a sweet and personal touch. Consider these ideas:
Fondant Lettering: Elegant and precise, fondant letters can be used to spell out your partner's name.
Chocolate Drizzle: Use melted chocolate to write their name in a free-flowing, artistic style.
Anniversary Cake Design with Photo: Create a cherished memory with a photo-adorned anniversary cake
To make your cake truly unique and sentimental, add a photo of a special moment you've shared together. Here's how:
Edible Image Printing: Many bakeries offer edible image printing. Simply provide a cherished photo, and they'll print it onto edible paper and place it on your cake.
Frosting Photo Transfer: Alternatively, you can transfer a photo onto your cake's frosting using edible ink and a special printer.
Photo Collage: Create a collage of memorable moments by placing multiple edible photos all around your cake.
Edible Ink Pens: Add a personal touch by using edible ink pens to draw or write directly on your cake's surface.
Picture Frame Border: Encase your photo with an edible picture frame border, enhancing its significance.
Mini Polaroids: Decorate your cake with mini edible Polaroid-style photos, adding a nostalgic touch.
Multiple Photo Layers: Build layers on your cake, each featuring a different photo, showcasing the journey of your love.
Family Album Cake: Include snapshots of family and friends who have been a part of your journey for a heartwarming touch.
Color Splash Effect: Opt for a color splash effect where your cake is grayscale, except for the colored portion of the photo.
Photo Edible Stickers: Use edible stickers of your favorite photos to decorate cupcakes alongside your main cake.