Are You Ready to Wow Dad? Check Out These Jaw-Dropping Father's Day Cake Design Ideas!
Order Father's Day cake online for delivery in Delhi NCR

Chennai Super Kings - official
20. August, 2023.
Best chai
Architta Kataria
3. August, 2023.
Yesterday I bought a chocolate cake for my parents anniversary the cake was too delicious & so attractive .
Suvidha Engineers
29. July, 2023.
Best catering service in south delhi from Chaykala.. The first experience was really appreciated..
Vandana Vohra
24. July, 2023.
The cake tasted amazing and looked nice too. Thank you for customising the cake accordingly.
Indulging in a decadent cake to honour all the wonderful dads out there is the best way to celebrate Father's Day, in my opinion. What better way to recall the event than by enjoying a delightful treat that also has particular significance? Imagine a delectable dessert that warms both your taste senses and your heart. Now, that's a celebration in my book!
You know, Father's Day is a unique time intended for us to express how much our dads mean to us. It's a time to express gratitude for their unwavering love, guidance, and those cringe-worthy yet lovable dad jokes they never seem to tire of. And what better medium to convey our appreciation than through the magic of cake?
Imagine the anticipation building up as you whip up the batter, the scent of vanilla wafting through the air, and the excitement of carefully decorating each layer. It's a labour of love, my buddy, requiring dexterity, imagination, and a dash of sincerity. As you mix, frost, and adorn, you can't help but feel a rush of joy knowing that you're about to create something absolutely exceptional.
A cake is more than just a dessert, my dear friend. It's a canvas for your affectionate artistry, a masterpiece that speaks volumes without uttering a single word. With each bite, you'll taste the love, admiration, and appreciation baked into every crumb. The important role our fathers have played in our lives is honoured.
The question you're most likely wondering is, "But what kind of cake should I make?" and I recognise that. Fear not; the opportunities are as endless as a father's love! From decadent chocolate cakes that melt in your mouth to fruity delights that burst with flavour, there's a recipe to suit every dad's taste buds. And don't forget the decorative touches – a personalized message, his favourite colours, or even a mini fondant replica of his favourite hobby. There are no boundaries, my friend! Let's dive into some creative Father's Day cake design ideas that will make this Father's Day truly memorable!
Classic Father's Day Cake Designs:
Classic Father's Day cake designs will always be in vogue. Classic designs are timeless and never fail to bring a smile to Dad's face. Let me give you a few fantastic ideas to kickstart your creative cake journey:
Imagine a cake that resembles a sharp, pristine shirt paired with a snazzy tie. Picture this: fondant magic turning into a garment masterpiece! You can even choose Dad's favorite colors to add that extra touch of personalization. It's like a fashion show on a plate!
Now, how about a cake that reflects your dad's inner handyman? If he loves tinkering and fixing things, surprise him with an edible toolbox extravaganza! Think fondant tools and nuts, all crafted to perfection. It's a creative masterpiece that not only looks amazing but tastes oh-so-delicious. It's like art you can devour!
And let's not forget about the sports enthusiasts out there! Is your dad a golf pro or a basketball aficionado? Well, a sports equipment-shaped cake is the way to go! Imagine a cake that looks like a perfectly round golf ball or a mini basketball court. You can even add his favorite team's colors and logo to make it a true champion on the dessert table. It's a slam dunk of sweetness!
You see, the idea is to use all of your creativity to produce something that accurately captures the interests and passions of your father. The burst of creativity and flavours will make the cake a memorable centrepiece for the celebration. Dad will be shocked when he hears how popular the cake is!
And that's it, then! Designs for Father's Day cakes that have endured the test of time. Whether it's the shirt and tie masterpiece, the tool-themed extravaganza, or the sports equipment sensation, your dad is in for a real treat. Get ready to celebrate in style and make this Father's Day an unforgettable one!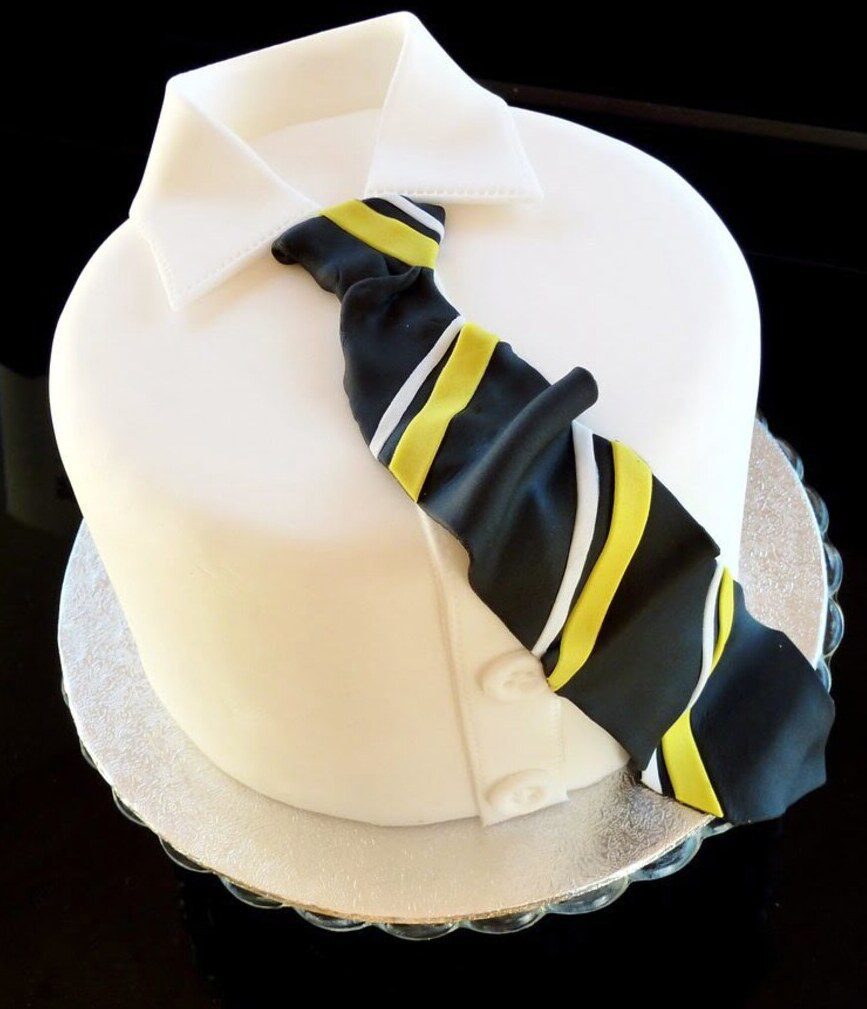 Themed cake designs are an absolute blast when it comes to celebrating dads and their unique interests and hobbies. It's like diving headfirst into a world of imagination and creating a cake that truly speaks to their passions. So, let's dive in and explore some exciting ideas together!
Now, picture this: a cake that pays homage to your dad's superhero obsession. Whether he is an ardent admirer of Batman, Superman, or Wonder Woman, you can make those powerful figures come to life in the most mouth-watering way. Imagine a cake adorned with superhero emblems, or better yet, a layered masterpiece that resembles the iconic costume of his favourite crime-fighter. It's like having a slice of heroism right on your plate!
However, there's still more! Why not bake a cake in honour of your dad's passion if he has a special activity that brings joy to his life? Is he a fishing enthusiast who can spend hours casting his line into the serene waters? Well, then, let's whip up a cake that showcases a serene fishing scene, complete with edible fish and a fishing rod made of sugar. It's a taste of his favourite pastime!
Or perhaps your dad's green thumb rivals that of a seasoned gardener. In that case, why not create a cake that blooms with edible flowers and lush greenery? You can even incorporate tiny gardening tools or a fondant sun shining brightly overhead. It's like a garden coming to life on a cake stand!
Profession-inspired cake:
Now, let's not forget those dads who are dedicated to their professions. Whether he's a firefighter, doctor, or teacher, his career deserves a sweet celebration. Imagine a cake that embodies the spirit of his profession, like a fire truck-shaped cake complete with edible flames and a ladder made of chocolate. Or perhaps a stethoscope-inspired cake that showcases his medical expertise. It's a cake that not only satisfies the taste buds but also honours his hard work and dedication.
So, my friend, themed cakes are a gateway to a world of creative possibilities. They allow you to immerse yourself in your dad's interests and passions and create something truly extraordinary. It's a chance to showcase his favourite superheroes, hobbies, or even the profession that he dedicates his days to.
Personalized Cake Designs:
Personalized cake designs are the ultimate way to make Dad's Father's Day celebration one for the books. It's like giving him a cake that speaks directly to his heart, a cake that tells his unique story. So, let's explore some exciting ideas that will add that extra personal touch!
Edible photos and custom messages:
Imagine this, a cake adorned with edible photos that capture your fondest family memories. Picture Dad's face lighting up as he sees those cherished moments printed on edible paper and carefully placed on the cake. It's like a visual journey through the love and laughter you've shared together. And why not go the extra mile and add a heartfelt custom message? Let him know just how much he means to you, and watch his heart melt along with each delicious bite.
Favourite flavours and designs:
But personalization doesn't stop there, my friend! It's time to explore Dad's taste buds and create a cake that truly reflects his flavour preferences. Is he a die-hard chocolate lover? Then let's go all-in with rich, decadent chocolate layers and a velvety chocolate frosting that will make him weak in the knees. Or maybe he's a fan of classic vanilla with a twist? Get creative and incorporate his favourite flavours into the cake, making each slice a delightful journey of his taste buds.
You see, personalization is about adding those little touches that make Dad feel seen, loved, and celebrated. It's about going beyond a generic cake and creating a masterpiece that's tailor-made just for him. With edible photos capturing special moments, custom messages that tug at his heartstrings, and flavors and designs that reflect his individuality, you're sure to create a Father's Day cake that will leave a lasting impression.
So, get ready to embark on a cake-decorating adventure filled with personal touches and sweet surprises. Let your creativity shine, and watch Dad's face light up with joy as he realizes just how much thought and love went into his personalized cake
Interactive Cake Designs:
Prepare to up the ante on Father's Day festivities with interactive cake designs that will bring a lovely element of surprise and enjoyment. These cakes are not just desserts; they're an experience that will make Dad's day even more extraordinary. So, let's dive into some exciting ideas that will bring smiles and laughter to the table!
First up, we have hidden messages. Imagine baking a seemingly ordinary cake, but with a surprise tucked away inside. As Dad excitedly cuts into the cake, he'll be met with a heart-warming message hidden within the layers. It's like a sweet surprise that unfolds before his eyes, filling the room with joy and love. Just imagine the sparkle in his eyes as he discovers the heartfelt words you've hidden for him.
Now, let's talk about cake reveals! Get ready to unleash your creativity by baking a cake with multiple coloured layers, all frosted in a way that cleverly hides a design. As Dad cuts into the cake, slice by slice, the hidden design gradually unveils itself, like a magical transformation happening right before his eyes. It's like an edible work of art that surprises and delights with each revealing slice. The anticipation and excitement will be palpable as Dad discovers the hidden masterpiece within his cake.
And why stop there? Let's add some compartments for treats! Imagine designing a cake with secret compartments that can hold small gifts or delectable surprises. As Dad indulges in his special cake, he'll be delighted to stumble upon these hidden treasures. It's like a delicious scavenger hunt, where each bite holds the potential for a delightful surprise. With each compartment he discovers, his smile will grow wider, and his joy will be contagious.
You see, interactive cake designs are all about creating memorable moments and turning ordinary celebrations into extraordinary experiences. They engage the senses, ignite curiosity, and bring a sense of wonder to the table. It's about making memories that will be treasured for years to come, not simply about eating cake.
Prepare to go on a baking experience that will wow Dad and everyone else in the room, my friend. Let your imagination soar as you plan the hidden messages, reveal designs, and treat-filled compartments. With these interactive cake designs, you'll create an unforgettable Father's Day experience that Dad will treasure forever.
Tips for Decorating Father's Day Cakes:
After looking at some incredible Father's Day cake design ideas, it's time to get down to business and discuss useful advice for embellishing those lovely cakes. These suggestions will enable you to improve your cake decorating abilities and create a very remarkable Father's Day cake. So put on your apron, get your piping bags ready, and let's begin!
Experiment with stencils:
Let's start by discussing stencils. Stencils are like magic tools that can instantly add a touch of elegance to your cake. Experiment with different stencil designs to create intricate patterns or shapes on the cake's surface. Whether it's a delicate lace pattern or a bold geometric design, stencils can take your cake decoration to the next level. Just imagine the look on Dad's face when he sees those perfectly formed patterns on his special cake!
Master piping techniques:
Next up, piping techniques. Piping is an art form that allows you to create beautiful borders, patterns, or even personalized messages on the cake. It's like drawing with frosting! It takes time to perfect pipe methods, but believe me, the effort is worthwhile. You are capable of producing breath-taking masterpieces that will wow everyone if you have stable hands and an inventive imagination. So, grab that piping bag, experiment with different tips, and let your creativity flow through every squeeze.
Explore frosting options:
Now, let's talk frosting. Frosting is a cake decoration method as well as a delectable topping. Try experimenting with a variety of frostings, like silky buttercream, delicious cream cheese frosting, or rich ganache. Every frosting kind has a different impact on the cake's flavour and appearance. To achieve the desired results, using the appropriate frosting could make all the difference. No matter you're going for a rich and luscious texture or a silky-smooth finish. So, feel free to sample several frostings and allow your palate lead you to the ideal combination for your Father's Day cake.
Let's dig into the realm of fondant last but not least. wish flexible artist's clay, fondant may be shaped into whatever form or pattern you wish. It's perfect for creating smooth finishes, covering the cake entirely, or adding intricate details. To work with fondant successfully, remember to knead it well to make it pliable and roll it out evenly for a smooth and flawless result. When decorating your Father's Day cake using fondant, be imaginative and allow your creativity go wild since it opens up a world of possibilities!
With these helpful hints in hand, my fellow cake decorator, you are now prepared to take on the challenge of creating a Father's Day cake that will surprise and delight. Remember to have fun and let your creativity shine whether you're practising piping methods, investigating frosting alternatives, or working with fondant. After all, adorning a cake is like creating a work of art; it's a sign of affection and an enjoyable way to honour Dad on his special day. May your Father's Day cake be a genuine work of beauty, and happy decorating!
Ordering Father's Day cake online in Delhi
What better way to surprise Dad on Father's Day than by placing an online order for a delectable cake in Delhi? Make this Father's Day especially special by placing an online order for a delectable delicacy and having it delivered to your house in a matter of clicks. Let's investigate the fascinating world of internet cake ordering to find out how to make Dad's day special.
Picture this: You're browsing through a wide array of mouth-watering cake options on a website. From classic flavours like chocolate and vanilla to unique combinations that will tantalize Dad's taste buds, the choices seem endless. Each cake is like a work of edible art, carefully crafted to bring joy and delight to the person who takes that first blissful bite. It's a tough decision, but you know that no matter which cake you choose, Dad will be thrilled.
Once you've chosen, you can start customising. Add a personal touch by including a heartfelt message or Dad's name on the cake. It's like putting a stamp of love and appreciation right on top of the delicious masterpiece. And if you want to go the extra mile, some online bakeries even offer the option to add small gifts or treats alongside the cake, creating a complete surprise package that will make Dad's heart skip a beat.
Now comes the easy part—placing the order. You can complete the purchase in a few easy steps and look forward to the cake's delivery. The anticipation builds as you imagine the look of delight on Dad's face when he receives the sweet surprise. It's like a countdown to a moment of pure happiness and gratitude.
And then, the day arrives. The doorbell rings, and there it is—the Father's Day cake you ordered online. It's a sight to behold, beautifully packaged and ready to be unveiled. You can almost taste the excitement in the air as you carefully open the box and reveal the cake, perfectly crafted and adorned with your personalized touch. Knowing that you've contributed to a memory that Dad will treasure always makes you happy at that precise moment.
So, my friend, don't let distance or busy schedules stand in the way of celebrating Dad on Father's Day. With Chaykala's online Father's Day cake delivery in Delhi, you have a convenient and delightful way to make his day extra special. From choosing the perfect cake to customizing it with a personal touch, the process is as easy as pie (or should I say cake?). So, go ahead, place that order by calling us or hitting our website, and get ready to witness the sheer delight on Dad's face when he receives his delicious surprise. Happy Father's Day, and happy cake ordering!