Latest & Best Birthday Cake Designs for 2024


Happy Customers of Chaykala
Chennai Super Kings - official
20. August, 2023.
Best chai
Architta Kataria
3. August, 2023.
Yesterday I bought a chocolate cake for my parents anniversary the cake was too delicious & so attractive .
Suvidha Engineers
29. July, 2023.
Best catering service in south delhi from Chaykala.. The first experience was really appreciated..
Vandana Vohra
24. July, 2023.
The cake tasted amazing and looked nice too. Thank you for customising the cake accordingly.
There is a whole encyclopedia dedicated to your husband, wife, children or any of your loved one's Birthday cake designs ideas for 2024. Covering a variety of topics, such as films, books, and personal interests, will help you create a b'day cake that will wow your guests. This list will be a terrific guide whether your kid likes an edible version of his favorite cartoon characters, such as Dora the Explorer or Spiderman, or some decoration to impress elders and win awards at a costume party. As a result, here are the most latest & best birthday cake designs:
Surprise Birthday Cake Design for husband & wife with a Hidden Candies
With this beautiful surprise cake, you can strike a sweet note with friends/relatives. Love Stones in butterscotch, lemons, and cocoa are hidden within the cake. Everybody will be chanting your praises when they see this delicacy! A Hidden Sweetie Surprise Cake astonishes kids like no other spring surprise toy. Lunch isn't the only thing that will be served with style!
This cake design is also perfect to gift your loved one on Valentine's Day, so this Valentine's Day, surprise your sweetie with this special Valentine's Day cake design. Your baked cake is ready to be uncovered; remember to remove all of the extras before digging in! The perfect and most delectable way to take the worry out of a birthday surprise in 2024 is with this Hidden Candy Cake.
Chocolate Drip Birthday cake Design with Ice Cream
The Ice Cream Drip Cake Kit is a one-of-a-kind and entertaining cake that deviates from the norm. Rainbow Delight Ice Cream Drip Cake is sweet and creamy, and you won't want to share it.  A drip cake is a must-have for any ice cream party. The days of using a gravity knife to shave ice off a massive block of ice cream are gone. The precision dripping from our Drop Cake is expanded into one large sheet of ice cream in this rendition. The ice cream drip cake is a simple and tasty dessert to make!
Mom Birthday Cake Design with Rainbow Layers
It's time to add the next big thing to your dessert menu. The Rainbow Layers Cake is the visual feast that all of your guests have been anticipating. This birthday cake design tastes as good as it looks with layers of vanilla icing and a marshmallow center sandwiched between beautiful rainbow layers. Yes, you may play about with the flavor.
Rainbow Layers Cake — This sweet "layers of love" cake is ideal for any occasion like if you are looking for a great & colorful christmas cake design or New Year cake design this one is ideal design to go with . The vibrant and exciting design comes in 2022 in various colors, providing us a plethora of possibilities for matching our event. The best thing you and your kids will ever eat will be a rainbow layer cake. You won't be able to stop eating it after you've tried it. If you're intrigued by this dessert, try it right now.
Latest Birthday Cake Design for Boys with Characters
Character Cakes, a line of themed cakes styled like the Disney characters you love, will make your Disney character celebration like Disney. To commemorate Minnie Mouse's birthday, the Minnie Mouse Celebration Cake is shaped like her trademark polka dot outfit, complete with a bright red bow. To celebrate his birthday, the Mickey Mouse Celebration Cake is presented in traditional black and white. Character Cakes is a collection of themed cakes based on your child's favorite characters from movies, television shows, and video games.
To add to your child's special day, each character cake is designed to resemble the featured mascot, character, or icon. Animal-shaped cakes can be fashioned to look like a giraffe, flamingo, elephant, rabbit, or cat. Character Cakes offers the expertise and creativity to create the perfect cake that will delight young and old alike, whether you are looking for your child's favorite or designing a one-of-a-kind cake made fresh for a special event.
Latest Cake Design for Birthday to Smash a Pinata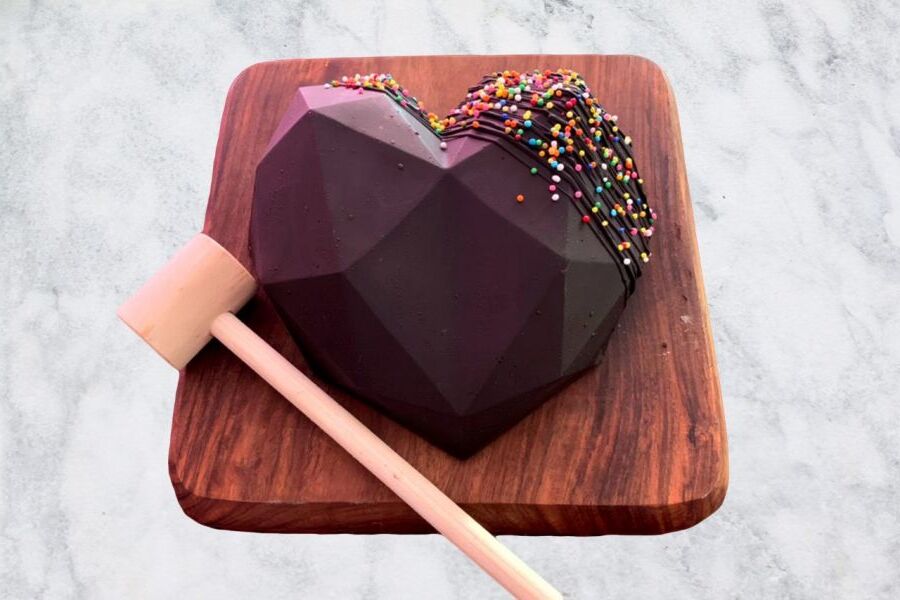 A Pinata Bashing Cake will liven up the celebration. The Pinata Bashing Cake is a kid's dream come true! Smash it, bash it, and then gorge yourself on the sweets within. Pinata is built with a lollipop, gummy worms, gumballs, chocolate-covered cherries, and jolly ranchers. It is topped with various sweets like a lollipop, gummy worms, gumballs, chocolate-covered cherries, and jolly ranchers.
A cake is as much an art as it is a science to make. While the recipe and frosting flavor set the tone for any given case, it's the artistic, eye-catching design on top that distinguishes your birthday cake. Here are some of the most recent birthday cake designs. So, if you're weary of the same old and typical birthday cake designs, get a mouthwatering cake via online cake delivery in Delhi.